WORKING WITH DG ECHO AS AN NGO PARTNER | FPA 2014 - 2020
IMPLEMENTING PARTNERS
The Partner may&nbspentrust tasks&nbspforming part of the Action on a&nbspnon-profit basis&nbspto one or several implementing partners, based on agreements to that effect.
The Partners shall ensure that the conditions applicable to it under the Specific Grant Agreement, are also applicable to implementing partners especially for what concerns the rules related to conflict of interest,&nbspvisibility, communication and information,&nbspeligibility of costs,&nbspprocurement&nbspright of access,&nbspevaluation&nbspof the action,&nbspaudits, and other controls etc

Signing a&nbspMemorandum of Understanding&nbsp(or equivalent) with the implementing partners is essential to clarify the rights and obligations from the outset.
&nbsp
In any case, remember that the partner remains&nbspfully responsible&nbspfor all activities implemented by its implementing partners and shall ensure and guarantee an effective management and control of the whole Action.

Furthermore, partners should&nbspensure access&nbspto full documents of the Implementing partners during&nbspaudit at Headquarters.
IMPLEMENTING PARTNERS AND CONTRACTORS
Some time it could be difficult to draw the line differentiating a contractor from an implementing partner. In order to help you, here below you can find a table with the main differences between these two actors.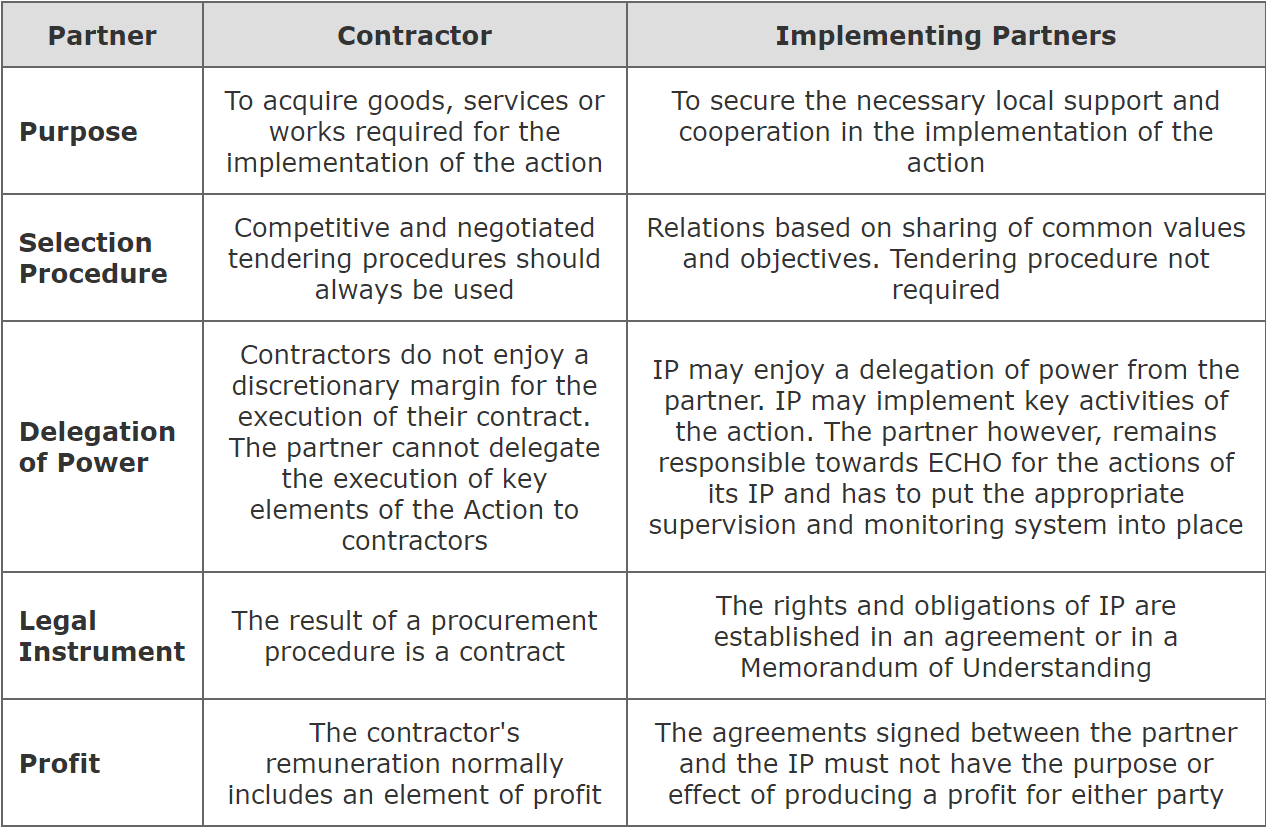 IMPLEMENTING PARTNERS AND THE SINGLE FORM
The decision to entrust implementing Partners should be declared in the&nbspsession 6.7&nbspof the Single Form that should present and explain
&nbsp
The prospect of having recourse to implementing partners;
The estimated&nbspbudget share&nbspthat would be allocated to the activities carried out by implementing partners.
At this regard, there is no set minimum or maximum budget share that can be allocated to implementing partners and in some cases, it is also possible to entrust tasks forming part of the Action to an Implementing Partner which is allocated 0% of the budget.

The partner will decide to include an implementing partner in the Single Form according to the&nbsprole it plays&nbspin the Action. In particular, the partners will consider: the need to ensure transparency towards ECHO, the share of the budget managed by the Implementing Partners in question, the level of the involvement of the IPs in the Action and the type of Action.

The partner should however remain reasonable in terms of level of details provided in the Single Form, both as regard to the number of Implementing Partner presented and quantity of information.

The partner can&nbspadd or remove&nbspimplementing partners unilaterally, as this is considered a&nbspnon-essential operational change. However, if it considers that there would be significant operational consequences from removing an Implementing Partner, or if the partner is aware that adding an Implementing Partner may raise problems in terms of compliance with the humanitarian principles, it is obliged to&nbspcontact ECHO&nbspunder its duty of full information sharing foreseen in Article 5 of the General Conditions.
PROCUREMENT BY IMPLEMENTING PARTNERS