WORKING WITH DG ECHO AS AN NGO PARTNER | FPA 2014 - 2020
WHAT IS THE SINGLE FORM?
USES OF THE SINGLE FORM
The Single Form is a&nbspliving document&nbspthat ECHO partners will use for the submission of :
By "living document", ECHO means that the&nbspsame document&nbsp("Single") has to be completed/updated during the project's life's cycle. Thus, the Single Form allows a comparison between the planned and actual achievements.
The Single Form&nbspallows partners&nbspto:
Submit a proposal in response to a crisis or an identified need
Reflect the reality of the project in the field
Anticipate assumptions, risks, change in project design, etc.
Inform ECHO of achievements.

Furthermore, it should also&nbspallow DG ECHO&nbspto:
Take a decision to fund or not to fund an Action
Analyse proposed modifications
Liquidate the agreement on the basis of the final report
Report on the actions funded, using the data mentioned in the box "data extraction".

The Single Form format is also used to submit proposals in the framework of the Grant facility, the Capacity Building and&nbspDIPECHO&nbspproposals. For this type of funding, ECHO usually issues specific guidelines in addition to the SF guidelines (check&nbspDG ECHO website&nbspfor more information on these funding opportunities).
MODULAR APPROACH
According to the modular approach, partners are invited to use a&nbspdifferent version Single Form&nbspaccording to the nature of the Actions submitted for funding. A function is available in APPEL where partners can identify the Single Form corresponding to their Action:
&nbsp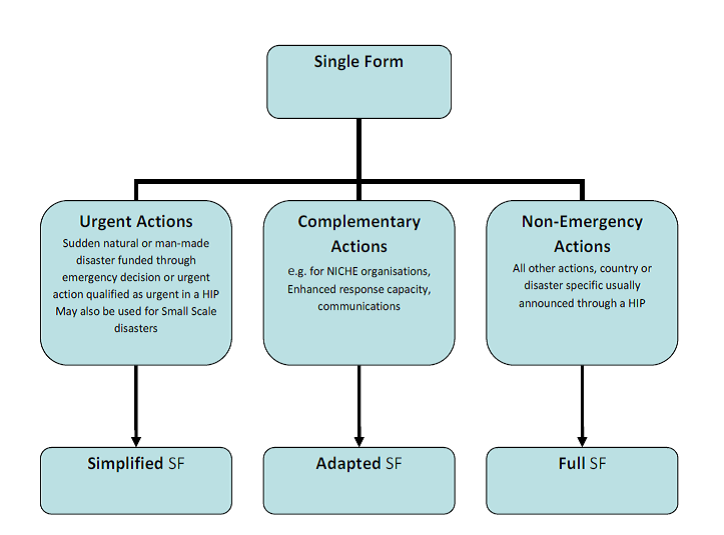 In the Annex II of the Single Form Guidelines, you can find more details on mandatory sections of the Single Form for NGOs depending on the nature of the Action (Urgent, Non Emergency or Complementary) and the sections to be filled in by UN Agencies.

WHERE TO FIND THE SINGLE FORM?
REFERENCE & DOCUMENT
SINGLE FORM GUIDELINES, INTRODUCTION